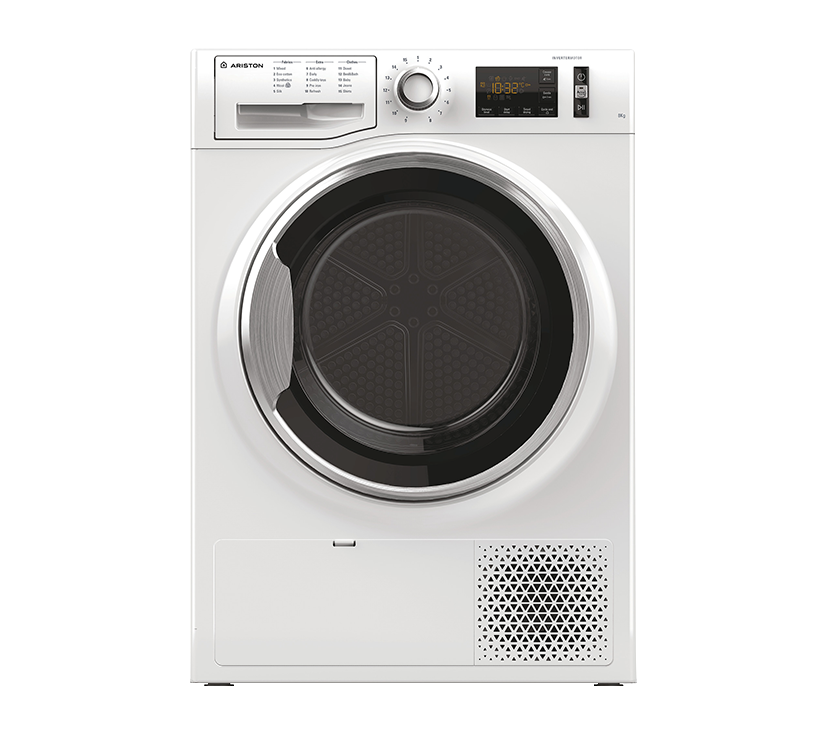 Heat Pump Dryer – N11HPLWAUS
Ariston – 8KG Heat Pump Dryer
5 Year Warranty

Details:
Woolmark Care
Digital LCD display
15 Dry Programs: Mixed, Eco Cotton, Synthetics, Wool, Anti-Allergy, Daily, Cuddly Toys, Pre-Iron, Refresh, Duvet, Bed & Bath, Baby, Jeans, Shirts
Digital Motion Technology
ActiveCare: The innovative ActiveCare technology reduces fabric wear out by 40%, minimising the stress on your garments, so that you can enjoy them for longer. *Up to 40% based on jeans program without ActiveCare.
Final Care: Special tumbling action at the end of a cycle to prevent creasing
Refresh Program: A 20 minute cool program that works on dry clothes to air and refresh them – an alternative to washing items you've only worn once or that have been unpacked from storage.
QuickCleaning: A smaller and lighter condenser filter that can be cleaned easier and quicker than ever before.
Dimensions (W) x (H) x (D) 595 x 849 x 655
Download
Features of the Ariston N11HPLWAUS Heat Pump Dryer