Ariston products are covered by a Warranty in addition to all rights available to you by statute.
Warranty Terms & Conditions.
These Terms and Conditions apply only to Ariston products distributed in Australia and New Zealand
by Arisit Pty Limited.
The conditions mentioned above are;
1.     That the purchaser carefully follows all instructions that are packed with the product
2.     That the purchaser carefully follows the installation instructions that are provided and complies with the electrical wiring regulations, gas and/or plumbing codes
3.     That the purchaser carefully follows the instructions that are provided in the owner's handbook relating to the correct use and care of the product and does not use the product for any purpose other than the Domestic, indoor use, for which it has been designed
4.     That the product was purchased and installed in Australia
5.     That this Warranty does not extend to;
a)     Optional glass lids for hobs apart from claims which relate to mechanical or physical damage thereof at the date of purchase;
b)     Light globes (with the exception of microwave oven globes);
c)     Damage to ceramic glass caused by liquid or solid spill overs, lack of maintenance or impact. Please read the booklet explaining about liquids containing sugar;
d)     Damage to the surface coatings caused by cleaning or maintenance using products not recommended by the owner's handbook
e)     Defects caused by normal wear and tear, accident, negligence, alteration or misuse.
f)      A product dismantled, repaired or serviced by any serviceperson other than an authorised employee or agent of Arisit Australia Pty Ltd;
g)     The servicing of Freestanding Microwaves under this Warranty does not cover in home service and is limited to the appliance being taken to the nearest Service Agent.
h)     The provision of service under this Warranty is limited by the boundary of the nearest agent's area. Travelling cost incurred for service outside this area is not covered by this Warranty and will incur commercial cost to be paid by the customer regulated by the number of kilometres travelled beyond the service area.
For service, please contact our warranty department on 1300 815 589 (if the product is above 7days and within 2 years from the date of delivery),
Other than this period, please call head office on 1300 762 219 and register online on www.arisitwarranties.com.au .
Please note if the repair agent found out that it is a user fault, installation fault or found no fault with the machine the fault is not covered by this Warranty, and you will be required to bear all service call charges
Have you received my warranty card?
You don't have to submit your warranty card, just hold onto your purchase receipt as warranty starts from the date of delivery. At the time of the fault, you will need to send a copy of your receipt (proof of purchase) which includes the serial number of your product and invoice number.
Contact Arisit if you have a warranty problem with the product within 7 days of delivery and after 2 years (if you have more than 2 years manufacturing warranty).
If you have a problem after the 7 days of delivery and within 2 YEARS contact our warranty department on 1300 815 589
You can lodge a claim directly on our WARRANTY WEBSITE (www.arisitwarranties.com.au). Please make sure you have proof of purchase as it will ask you to upload it on the website .
Turnaround time, how long and why is it taking so long?
Once you have submitted your information to our warranties website (www.arisitwarranties.com.au) then you will receive an SMS and/or email confirmation that we have received your request. One of our devoted service agent will get back to you within 48 to 72 hours. We are dedicated to providing you with the best customer service.
Can I email or fax my promotion redemption form?
No. We would like a physical/hard copy of the invoice. We must receive all redemptions via mail with a copy of your receipt and a ZERO balance owing. Be aware that the store name and invoice number must be legible.
Please note that you will also need to add your serial number. You must ensure that the address you provide is NOT a PO Box address (we are unable to send to PO Boxes and your redemption may not be processed).
With all our promotions please allow 8-10 weeks for the promotional goods to be sent out to the address you provided.
Is this the only manual you have?
All manuals will be sent along with your product upon delivery and all manuals are available online under our 'Downloads' tab.
How do I cook with the product?
See the cooking advice table in the user manual for some suggestions of what modes to use when cooking specific foods.
The manual is only in part English. Why?
Our products are made in Europe so the manual is not only in English, making it easier for people worldwide.
Where do I find the serial sticker and or product codes?
Please note all product codes are situated above the serial number on the serial sticker
Please note all serial numbers start with a SN followed by 9 digits Eg: ( S/N 123456789- )
Oven – Serial label located on inside of the front frame
Cooktops – Serial label located on the bottom of the base pan.
Rangehood- Serial label located inside product, remove the filter and look inside the Rangehood.
Coffee machines – Serial label located behind the front fascia on the left hand side
Microwaves – Serial label located inside the oven frame on the bottom.
Dishwasher – Serial label located inside product on the left hand side of the door
Refrigerators – Serial label located inside cabinet at the bottom right
Washing machine -Located inside the machine on the left hand side cabinet of the machine
Black marks & mildew on my washer. Why?
This is caused by a bacteriological build-up in your machine due to poor cleaning. It really is that simple and, all too often, it is caused by incorrect detergent use.
ONLY using solely liquid detergents, liquid tablets, colour only powders (or liquid) as well as most of the "alternative" products like Soapnuts, Ecoballs and Ecover which do NOT contain any bleach, and do not remove any bacteria effectively.
What happens is that under-dosing or using the incorrect detergent for too long without performing a maintenance wash bacteria starts to build up in the washing machine, which will grow very happily in the warm damp conditions, which will lead to mould on the door seal or door rubber.
If you wish to use these alternative products you will have to add bleach to prevent "greying" of your whites over time as well as other problems.
Mildew on the machines rubber seal:
Clean out the washer door's rubber seal thoroughly with a half-half solution of water and vinegar. Use Q-Tips for hard-to-clean areas. Remove any bits of hair or fabric you may find — these trap odors, sludge and provide a wonderful home for mold. Wipe the inside of the drum with this solution as well. And ensure you wipe any excess water on the seal after each wash as well. Additionally it is important you keep you door open after cycle to allow the machine to fully dry out after each wash.
For a monthly cleaning session, pour some distilled white vinegar instead of laundry detergent into the dispenser, and add one cup of baking soda directly into the drum as well (this will neutralize the pH, but provide a scrubbing action). Run the machine on the hottest cycle, plus an extra rinse. For extreme cases of mildew-y smells contact us and we will advise you on the next best steps.
Maintenance wash - washing machine & washer dryer
A maintenance wash cleans out the insides of your washing machine, which needs to be done on all washers from time to time. Most detergent manufacturers as well as washing machine manufacturers seem to have settled on doing it once a month, but obviously this will vary from household to household depending on how much the washing machine is used.
Using only colour detergent, liquid, liquid tablets or any other detergent that does not contain bleach will massively increase the need to carry out a maintenance wash. This includes alternatives such as soapnuts, ecoballs and Ecover etc., products which we have serious concerns about anyway.
No Wash Load!
The maintenance wash is to clean your washing machine out.
The machine must be empty when a maintenance wash is performed. This will also help the surfactants in the powder to attack the calcium build-ups as well, which will negate the need for any descaling.
However, if you use detergent correctly you should have little call for such add-on products, normally as there are components in the detergents to combat the effects of lime scale already.
What detergent to use during the maintenance wash?
You will need a good brand powder or tablets to do this. Don't use Liquid. It is the bleach in the powder that will kill the bacteria and that is a huge part of this process and the primary reason for carrying out a maintenance wash.
What program is best for the maintenance wash?
You need to use at least a 60'C program; preferably a hot wash at about 90'C will help to clean better. Please select one without a pre-wash, you want to get the full wash cycle and the heating from the heater to maximise the impact of any biological action by the enzymes.
Can I place the microwave in a cavity? If so, how much space do I need around the product for the cavity?
Ariston microwaves are designed and tested as freestanding products, unless stated that they are built in models.
If you wish to place freestanding microwaves in a cavity they must observe the below minimum dimensions and requirements.
The enclosure for freestanding microwaves is as follows:
1. The cavity needs a vent for airflow at the top back that flows up behind the cabinetry (standard with MWO cavities).
2. A 50mm clearance either side and 100mm on top.
3. Do not place anything in the clearance spaces on sides (as there are vents) and top of unit (as there is a grill that heats up and can create a high temperature zone).
4. Do not cover/close the cavity (front) as the cavity needs to have air circulation at all times.
Note: air vents on product must remain exposed and not obstructed, especially the grill creates a hot temperature zone around the unit during cooking.
I prepared a fish dish in my microwave. How can I remove the unpleasant odour?
Warm up a cup of water containing a few drops of lemon juice for about one minute. This will remove any unpleasant odours from your microwave.
What is the difference between dynamic crisp freestanding microwaves and other microwaves?
– The Dynamic Crisp function uses three heat sources at the same time.
– This allows you to use the special dynamic crisp plate that maintains a temperature of 210 degrees C (the perfect temperature for crisping).
– The dynamic crisp plate enables you to brown sausages, crisp bacon, produce perfect pizzas and even fry eggs.
My microwave stays on even after I finished cooking?
After cooking ENDS, it is common for the microwave to have the FAN, TURNTABLE and CAVITY LAMP still on before pressing STOP button, this is completely normal. The microwave and heating elements area turned off, however the turntable and fan keep active in order to help spread the heat evenly over the food (as it cools down), this especially useful if you are cooking meat and forget to remove it from the microwave after the program has ended.
What type of cookware can I use in my microwave?
Please refer to manufacturer's recommendations when using: aluminum foil, metal, plastic wrap, bags, covers, dinnerware, containers, pottery, clay, china, earthenware, melamine paper towels, paper dinnerware, napkins. It is safe to use wax paper, ceramic glass and glass.
Why can't I use metal objects in a microwave?
Microwave radiation is reflected by metal. If too much radiation is directed to one point this will result in sparks. This is likely to damage your microwave oven.
Ceramic Hobs
You must not use glass or copper-bottomed cookware, as this material will damage the surface of your ceramic glass.
Induction Hobs
Use cookware which is compatible for induction cookware, we especially recommend pots and pans made from cast iron, coated steel and special stainless steel adapted for induction cooktops.
See your Ariston user manual for a full list of materials that can and cannot be used, be especially careful with cleaning products, we recommend that you use our range of cookware cleaning products
Fast Clean - Pyrolytic Fast cleaning – What is it?
In this process, the interior walls of the oven are coated with self-degreasing catalytic enamel. This enamel oxydizes and destroys all grease particles which splash on to the oven walls. The temperature of the walls must
be over 170° for oxydization to occur. The porosity of the catalytic enamel increases the surface exchange required for oxydizing the grease particles by catalysis.
● Towards the end of the cooking period, if there are still traces of grease
particles, leave the empty oven turned on with
●The door closed, set the temperature selector to maximum, the function selection control to for 60 to 90 minutes
● According to the amount of grease residue. Hot water and a soft brush can also help remove spattering of grease.

Fast Clean - I cleaned my oven with Pyrolytic fast cleaning, but it is still dirty. Why?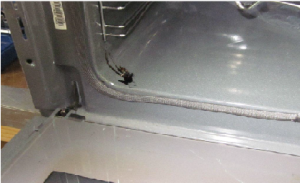 Above, is a photo of a customer's OS99DPIX oven, which was changed over by a Harvey Norman store because the oven liner enamel was damaged, these marks were left after a Pyro- Clean and are quite normal, as could be left over Die/Chemicals from meat or foods that the pyro temperature cannot always remove.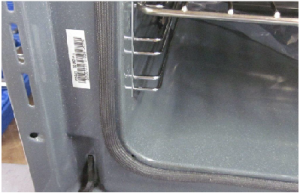 Above, is the same oven after the mark was removed with an Ariston scraper and cleaning cloth in our workshop. Please be aware that not ALL marks will be removed from a Pyro-clean and some housekeeping is required.
Also be aware that you must remove all shelving and trays before using the Pyro-clean function. After it has finished and cooled, use a damp cloth to wipe the dust out.
DO NOT place anything, at all, on the bottom of our ovens. It causes damage.
How do I install my telescopic rails?
My Dishwasher will not fill
Please ensure that your water taps at the back of the Ariston appliance are fully turned on and that the pipe work is not kinked or squashed. In order for an Ariston dishwasher to fill it must first drain.
PLEASE READ: In the interest of consumer safety, any adjustments, alterations or spare parts should only be made or fitted by a suitably qualified and competent person with the machine disconnected from the mains supply.
My Dishwasher will not drain
Please ensure that the waste hose has been correctly installed. If your Ariston appliance empties into an under sink waste system please ensure that the blanked end of the waste spigot has been removed. Ensure filter in the base of the dishwasher is free from debris. Check that the waste hose has not become trapped or kinked as this could also result in a failure to empty the waste water out of your Ariston appliance. 
PLEASE READ: In the interest of consumer safety, any adjustments, alterations or spare parts should only be made or fitted by a suitably qualified and competent person with the machine disconnected from the mains supply.
My Ariston appliances is dead
Please ensure that the socket that your Ariston dishwasher is connected, being both live and try plugging in and testing another piece of equipment such as a radio to double check. Also ensure that you are not using an inappropriate extension lead which could be the reason for the appliance not working.
PLEASE READ: In the interest of consumer safety, any adjustments, alterations or spare parts should only be made or fitted by a suitably qualified and competent person with the machine disconnected from the mains supply.
What should not go into the dishwasher?
Lead crystal – may become cloudy or even break
Plastics – some plastics are heat sensitive and may melt or warp
Wood/bone handles – glued handles may become loose
Aluminum utensils – likely to darken
Cast iron – likely to rust
Pewter – likely to stain and discolor
Mixed metals – can darken and be damaged